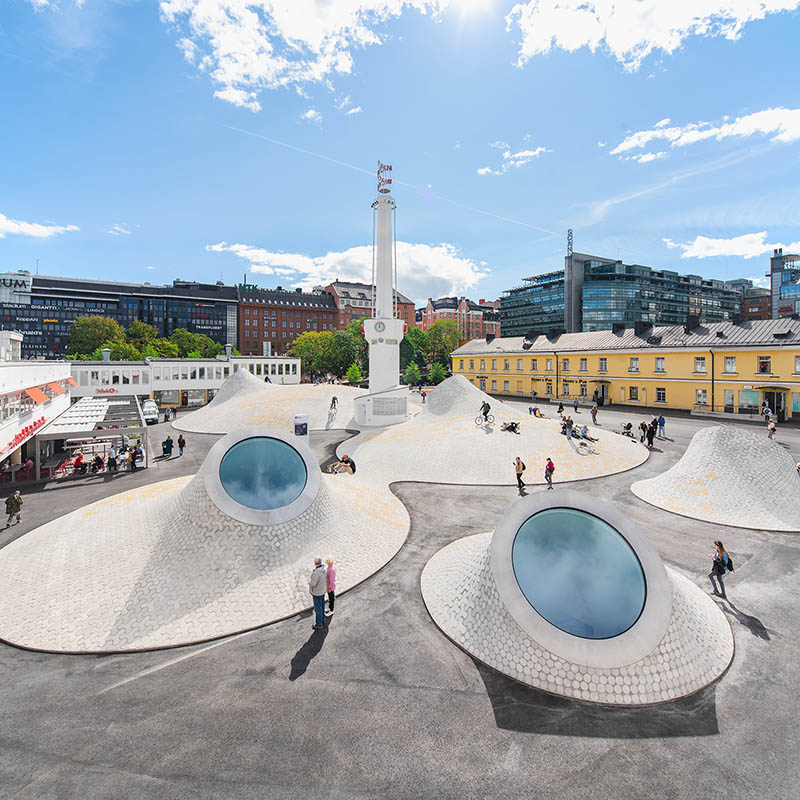 Amos Rex
Amos Rex is an art museum where the past, present, and future meet. Located within the functionalist landmark of Lasipalatsi in central Helsinki, the newly built domed exhibition spaces lie under the distinctively undulating Lasipalatsi square.
Amos Rex presents site-sensitive, experiential, and often technologically experimental exhibitions by contemporary artists and their Modernist predecessors.
- Amos Rex's domes: Have you ever spent time on top of a museum? At Amos Rex you can walk, climb, and even have a picnic on the domes that form the roof over Amos Rex's exhibitions. You can even peek inside the museum through the roof windows.
- Amos Rex combines old and ned: JKMM Architects planned Amos Rex so that it would connect to The Lasipalatsi building ("glass palace"in Finnish). Lasipalatsi – housing commercial premises, restaurant and a cinema, was completed in 1936, originally as a temporary building to serve visitors to the Olympic Games. It is a textbook example of the open-minded new architecture of its time – a functionalist gem, which has retained its youthful verve.
- Book a guided tour for your group – or even just for yourself! On the guided tour you can dive into Amos Rex's exhibition or focus on the history and architecture. You can even book a 20 min introduction to get all the important tips and information for your visit. Book your private tour here



Closings & Holidays
Please see the attraction website for the most up-to-date hours.
Opening hours
01.08.2022 - 18.06.2023:
Monday: 11:00 - 20:00
Tuesday: closed
Wednesday: 11:00 - 20:00
Thursday: 11:00 - 20:00
Friday: 11:00 - 20:00
Saturday: 11:00 - 17:00
Sunday: 11:00 - 17:00
19.06.2023 - 06.08.2023:
Monday: 11:00 - 18:00
Tuesday: closed
Wednesday: 11:00 - 18:00
Thursday: 11:00 - 18:00
Friday: 11:00 - 18:00
Saturday: 11:00 - 17:00
Sunday: 11:00 - 17:00
07.08.2023 - 16.06.2024:
Monday: 11:00 - 20:00
Tuesday: closed
Wednesday: 11:00 - 20:00
Thursday: 11:00 - 20:00
Friday: 11:00 - 20:00
Saturday: 11:00 - 17:00
Sunday: 11:00 - 17:00
Directions/Getting here
Mannerheimintie 22-24
00100 Finland